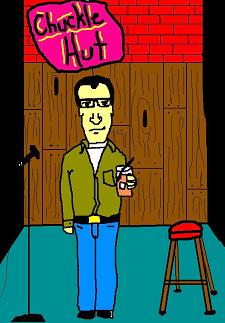 fan mail*
"Like Seinfeld, but warmer."
Arnold S. – Raleigh, North Carolina
"We thought you were very funny and clever and we laughed all night swapping "Dan-isms". Your future looks bright!"
Sue S./Derik G.- Lansing, M
"We thoroughly enjoyed your show and appreciated thought over expletive."
Sari and Scott G. – Austin, TX
"i missed my first class just to sit in my car and laugh my ass off."
Lauren V. (city unknown)
"We liked you better than the headliner!" 
various (cities withheld to protect the headliners)
"Could you make me laugh any harder?  I don't really think so.."
Carmen M. – Chicago, Illinois
♥ love-mail! ♥
If you're on Friendster or MySpace or some of the singles sites, you may have gotten e-mails like these.  Are they setups for a scam or people looking for a green card or what?  Whatever they are, they make me smile, so here are a few.
If you get a good one, please send it in.
I HAVE A GOOD ORGANISM
8/15/2005
My name is engle mary  u.k. I live in the  city of london and also in manchester but really now in u.k staying with my grand .. I want a good man and care also am looking for wonderful man I'm a serious woman,I don't  like play with your fellings. I like the truth,and I hate the lies.I'm loving, caring, romantic, kind and honest person.I'm looking for a long term relations with the happy marriage.
I want to share everything with my future husband.We'll have our joy, our sucess and our problems which we'll always decide together.I'm very open person, and I dont'n like hiding anything.I want to give all my love to the husband of my life. And my husband will be only for me, because I'm a very devoted person.I hate lie and betray.
I was in the University, and I studied modelling  today I dedicated to my own business in specific a Real State and soon I will be open a little factory for envase a purific water and juices.
I have a good organism and am ready to give birth to healthy children in the future. Never had heavy diseases with health. I'm absolutely healthy woman.  I live with my mum rose . My father senita died 7 months ago. I have 2 sisters Claudia and Giovanna this is my family. I wish to find my other soul in you and I married with you if you accept my love for you in the future.I want to be happy with you all of the rest of my  lives.
I very much would like to learn you more close, If you want to earn me, you can aswer any questions about me,
that all for noe, please write me back on my email address at engle@… and  please tell me more about you, and send me more photos of you please,
with love.
Sincerely engle.
I THE EDUCATED WOMAN
10/19/2005
Hello!

You have nice profile, and I am interested in acquaintance with you. I shall tell slightly about myself. I am 27 years old, live in Russia, city Samara! I can tell about myself that i am interesting woman with good character, sense of humor, opens in dialogue. For an entertainment I like to do many things: sports meets, camping to go at cinema, theatre and other places To see and do a lot of new. I the educated woman. Studied in university and at present I work as the bookkeeper, but I can work the bookkeeper and the economist.
I know the English language well enough and I think that we will not have problems to understand each other. I never was in the USA , but I think that this good place to live and grow children. I have no children, but I want to have children from correct men sometime soon. It would be fine if I and you could do friendship or more than simply friendship.
I search for serious relations and I shall be happy to learn you closer. It will be fine if we can exchange some letters and photos. Write what your purposes and plans for the future? What you search in the woman?  Tell more about a place where do you live. I shall look forward to hearing from you.
Write back on email: summerkat@… Ask any questions which interest you. Write me back and I shall tell more about me, my life and send my photos.
Kiss from Russia,
Ekaterina!
I LIKED YOUR STRUCTURE
05/22/2006
Hello!!! I for a long time thought, that to you to write and all could not dare to make it in any way! But now you will see my letter and I hope, that I shall see on him the answer! My name is Olga, I live in Russia, city Kazan, me of 27 years. I search for the man for creation of family, the man which me will love, support in all heavy vital situations, to help me, to carry out with me every minute the life, to respect. I liked your structure, and I would like to get acquainted with you. If I have interested you also you not against our acquaintance, write to me on mine e-mail olgasama@… I with impatience shall wait for your letter. Olga…
FOR THE LADIES
2005
check it out women. Im looking for girls who is willing to fight for some money. See what this is is kinda like a fight club, only for females. When you write me, ill take down some info, your age/ weight/ and when you can be at a location of my choice. At all times, all fights will be at night.
More than likely the fights will be held behind a mall or some like that. You can bring friends along but no weapons. And who ever wins, wins. Myself or a selected person will be something like a ref….. winning prize is 50$ for a one on one fight as of right now. The more girls that are willing to do this, the more money the prize is. And you pay nothing. If you are scared thats cool. Just try it out. Whats an ass kickin gonna do to yea.
-courtesy of Stephanie