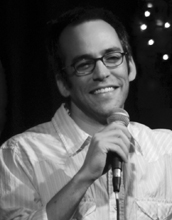 Daniel Kaufman was once a lawyer, but tired of the job-security, money, and respect.  Today Daniel realizes his mistake, but unfortunately he let his Bar membership lapse.  Oh well!  On the plus side Daniel gets easier hours, and to say whatever he wants to whomever he wants.  He doesn't have to do research and find a case of some judge saying it first to back him up.  In fact, now he tries to say things other people haven't. 
In the aughts, Dan was a stand-up comedian.  He was featured as a "Fresh Mug" in the Chicago Comedy Festival, and appeared many times on the nationally syndicated Bob & Tom Show and on their CD compilation, "Sideshow".  Dan is also the voice of the Encyclopedia Britannica dog!  He still feels the itch to be funny in front of a live audience so it might happen again one day.
Since 2011, Daniel has spent most of his time producing and hosting the Myoclonic Jerk Podcast. 
Daniel has been writing since he was a teen.  In the last few years he has finally started finishing things.  Maybe you will get the chance to take some of it in before long. 
clubs and colleges across the country
Go Bananas – Cincinnatti, OH
Helium – Philadelphia, PA
Laff Stop – Houston, TX
Wit's End – Denver, CO
DePaul University – Chicago, IL
University of Chicago – Chicago, IL
and many more… (27 states and counting…)
tv/radio/podcast
Comcast On Demand

many local stations…
1 boozehound, 2 ex-boozehound, 3 OCD, 4 time for a new headshot, 5 whoremonger, 6 RIP, 7 bitter, 8 binge eater, 9 strange odor(s), 10 mama's boy, 11 paranoid, 12 pedophile, 13 brawler, 14 cheapskate,
15 sweats like a faucet, 16 sir smokesalot, 17 slept on my couch, 18 thinks (s)he's all that, 19 closet geek, 20 blowhard, 21 Northern Conservative Fundamentalist Baptist, Great Lakes Region, Council of 1879, 
22 hates litter, 23 can't hit a free throw to save his life, 24 flipcharts, 25 nickname is "chili", 26 whipped, 27 conspiracy nut, 28 right-winger, 29 acts all tough but likes puppies,
30 control-freak, 31 bought me dinner (thanks sucker!)  32 partial nudity,  33 folds to a reraise 34 gym rat, 35 fancy pants
36 not self-absorbed
*If anyone catches any of these bums doing my material, let me know.
comics i'd like to work with
norm macdonald
tim northern
patton oswalt
brian regan
craig robinson
comics i'm really sad i missed working with
greg giraldo          mitch hedberg
your name missing? email me your sad pleas and I'll see what I can do.
but don't sweat it too much. i update this page maybe once every five years.